And Baby Makes Seven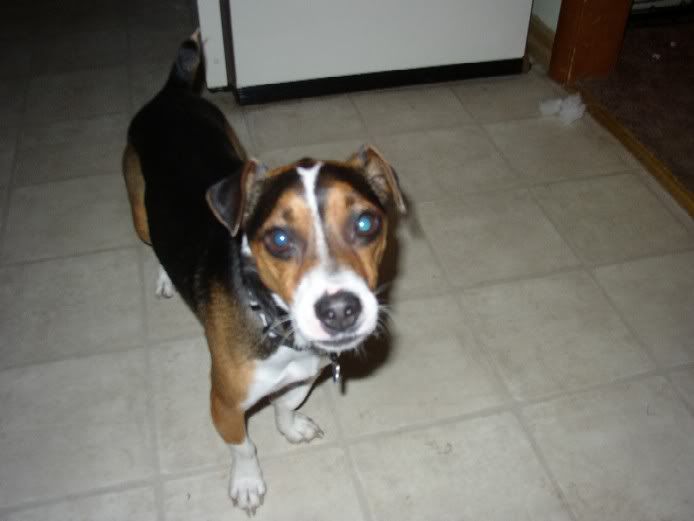 Meet Sadie and AC. Sadie is eight years old. She was found by her people parents on the side of the road as a puppy. They took her home and made her one of their family. She got to sleep on their bed and eat good food and get lots of pets and scratches. Meanwhile, her parents decided to start a human family.
When there were two human children and Sadie, her parents decided to get her a four legged brother. That's how AC joined them when Sadie was five.
Last year, Sadie and AC's parents had a third child. They decided that five kids (three human and two canine) were too much and that two of them had to go. Sadie was sure that because she had been there longer, she would get to stay, but that's not how things worked out. Sadie and her brother, AC were told that they didn't make the cut, and had to leave.
Sadie and AC's parents put an add in the paper advertising them for $5. Five dollars seemed like a low value for someone who shared three years of their life, and even more crazy for Sadie, who shared almost her entire 8 years with her family. Luckily, APB saw the add first and rescued them.
Sadie was very scared when she came into foster care. For the first few days, she would only come out of her crate to go outside and go to the bathroom. AC was a bit more friendly, but was constantly whining, looking for his people, but Sadie seemed to know that their people were not coming back to get them.
Sadie is extremely overweight, but her new diet will work wonders! Soon she'll be as svelt as her brother, AC. AC is young, happy, friendly and springy. He loves to "talk" and play fetch and chase.
There are countless dogs out in need of loving, nurturing homes like Sadie and AC. If you have a place in your heart for a dog like Sadie or AC or the
many dogs
rescued by APB, please check out our
website
for more information.